These are the basic services provided by our company, the bread and butter of the computer service industry. We know we are not the only ones to provide these services, in fact it is the fastest growing business in our region according to State of Vermont Statistics. For those of you who are not yet familiar with our company, the differences between us and our competitors are as follow:
Over a decade of expertise in the assembly, repair,upgrade and networking of computer equipment.
The best available rates on parts and services, because of our low overhead and industry connections.
Over a decade of expertise in service center operations, telephone technical support opreations and fast, reliable on-site services.
The newest technologies available delivered, tailored to your needs:
Home theater systems, satalite/cable and PC based media servers.
Home office automation and security options based within PC technologies.
Portable equipment WI-FI or Satalite, LAN/WAN management, work from home VPNs.
The best graphics
-- Consultations - Getting together with you and your exsisting equipment to find out your specific needs, your current setup, and your future plans, to ensure we give you exactly what you want.
-- Repair/Upgrade - Fixxing problems you've pointed out to us can vary in complexity and time, some issues can be solved in a 5 minute phone call while others may take an on-site service call or 2 to repair broken equipment or upgrade hardware or software to perform new tasks
-- System Design - We can design custom computers, networks, home theaters, and a never ending list of new integrations including automation, security and communications equipment for you.
-- Sales - We use many sources to get parts and/or whole systems for you at the best price. We are reseller partners of Intel, ATI, Asus tek, AMD, Soyo & Microsoft products to name a few direct markets. We will also use various chains like Staples or Online Companies to obtain the best deal for you up to the date of purchase. Most products can be obtained today, or overnight, and at most within a week. This short delay can save you and us money versus keeping inventory.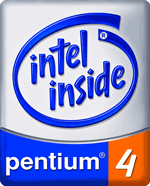 Intel Authorized Sales & Service